We are the right contractors to handle your upcoming removal to, from or across the City of London, WC. We founded our company several years ago with the sole intention of providing to the local residents and business owners, affordable and reliable moving options. Today we can stand tall and proudly say that we have reached our goal as we are the most acclaimed and sought man and van technicians and we are hired on a daily basis to organise and see through relocations of diverse timeframe, complexity and magnitude.
We can handle any business or residential relocation in City of London, EC
We specialise in all types of property removals in City of London. To us it doesn't matter whether we have to relocate a household or an office because we have the manpower, technical capacity and expertise to execute both jobs in full accordance with the highest standards of the moving industry. With the help of our removal equipment we can quickly, smoothly and efficiently relocate:
Small flats and houses
Mid-sized attached and detached houses
Ancestral mansions
Holidays
Lodges
Offices
Hotels and hostels
Restaurants and public houses
Production facilities
Warehouses and storage units
If the type of our property isn't listed, don't be discouraged and tell us about it. We promise that we will find a way to conduct your move and provide you man and van services that will meet your demands and leave you fully satisfied. After all it is not by chance that we are leading company when it comes to property removals in City of London, EC.
X Removals also has the needed resources to organise and carry out small removals in City of London. We can easily haul one or several items from point A to point B. So if you are facing a small scale relocation in the near or far future do not be hesitant to book our services as we will gladly lend you a hand. Beard in mind that we work with a flexible agenda which means that hiring us is a simple and straightforward task as we always have free slots for new and challenging moving jobs. It also means that we accept bookings on a short notice.
We work with the best packing supplies on the market
Our packing services are credited to be the best in the City of London, E. It is like this because we constantly study and master new packing techniques, and use only the finest materials which we have personally tested. With the help of our packing supplies we can safely and efficient pack and prepare your belongings for transportation:
| | |
| --- | --- |
| Type | Objects |
| Common everyday items | Books, cutlery, magazines, hangers, plants |
| Small pieces of furniture | Night tables and lamps, microwaves, mixers, ottoman chairs, coffee tables |
| Office equipment | Printers, laptops, scanners, fax machines, telephones |
| Vintage furnishings | All pieces of furniture that are over 50 years old |
| Glassware and porcelain items | Plates, vases, mirrors, glasses, decorative features |
| Works of art | Paintings, sculptures, photos, posters, prints |
| Musical instruments | Royals and pianos, cello, drum sets, guitars, harps |
| Construction materials | Timber, tile, concrete bags, paint buckets, steel, bricks |
| Specialised machinery | Saws, industrial ovens, landscaping equipment, pneumatic hammers, concrete mixers |
We can also properly secure larger items by covering them with furniture blankets and cushioned sheets or building wooden crates which we will fill with packing peanuts in order to provide additional protection. You can learn more about our packing options by contacting us via telephone or sending us an e-mail with all the questions that are on your mind. Keep in mind that we are one of the few City of London removal contractors that maintain a 24/7 customer support centre, so feel free to get in touch with us at any time of the day.
We from XRemovals can also assist you with your end of tenancy cleaning obligations as we provide property sanitation options of the highest quality. We have a team of seasoned cleaners to whom we have provided the best sanitation machines and eco-friendly cleaning detergents. With the aid of our tools we are able to properly sanitise even the most soiled and tarnished areas of a property. We work with green cleaning solutions because:
They don't leave toxic or chemical particles behind
They are extremely effective when it comes to the removal of resilient stains
They allow us to maintain the most affordable cleanings fees in the City of London, WC.
They cannot cause health complications.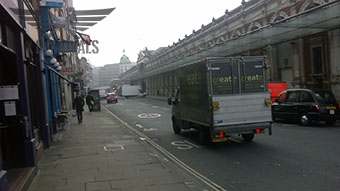 Our company operated in the City of London, EC. It is the oldest area of the English capital and one of the two districts which have city status, the other being the City of Westminster. It lies in the central parts of London and has an estimate population of 7.300 people. It is home to a large number of ancient and modern landmarks such as St. Paul's Cathedral which is perhaps the most renowned religious structure in the United Kingdom. It was designed by Sir Christopher Wren and its construction started in 1675 and ended in 1720. Until the early 1960s it was the tallest building in the English capital. Today it is one of the most visited tourist attractions in Britain. Another well-known ancient building in the area is the Guildhall which for numerous centuries served as a town hall.
The City of London is also home to the Gherkin which is one of the capital's most recognisable and emblematic edifices. Officially known as 30 St. Mary Axe, the building was complete in 2003 and opened one year later in 2004. It is 180 metres tall and has a total of 41 floors. The Gherkin lies in close proximity to the 122 Leadenhall Building which is one of the newest skyscrapers in London. It is also one of the tallest structures in the city with a height of 225 metres. The edifice is considered to be one of the most modern and high-tech building not only in the United Kingdom but the world. It was complete in 2013 and opened in 2014.